Thursday 22nd March 2018
Spring Forward In Style!
Our clocks spring forward on Sunday! This might be bad news for our lie-ins but it does mean one thing: the fine-looking season that is Spring is well on its way!
To celebrate the arrival of this glorious season we have put together our favourite new clocks for the season – plus a collection of our all-time best sellers!
So if the prospect of turning your clocks forward makes your realise that your home could do with a new and stylish ticker, then look no further than the collection below or click here for our entire clock collection!
**New Clocks For Spring 2018**
If you are in need of a new clock then clap your peepers on our brand new timepieces for the season! From our designer clock brands, Karlsson Clocks and Newgate Clocks, these trendy tickers come in a range of sizes and colours/finishes!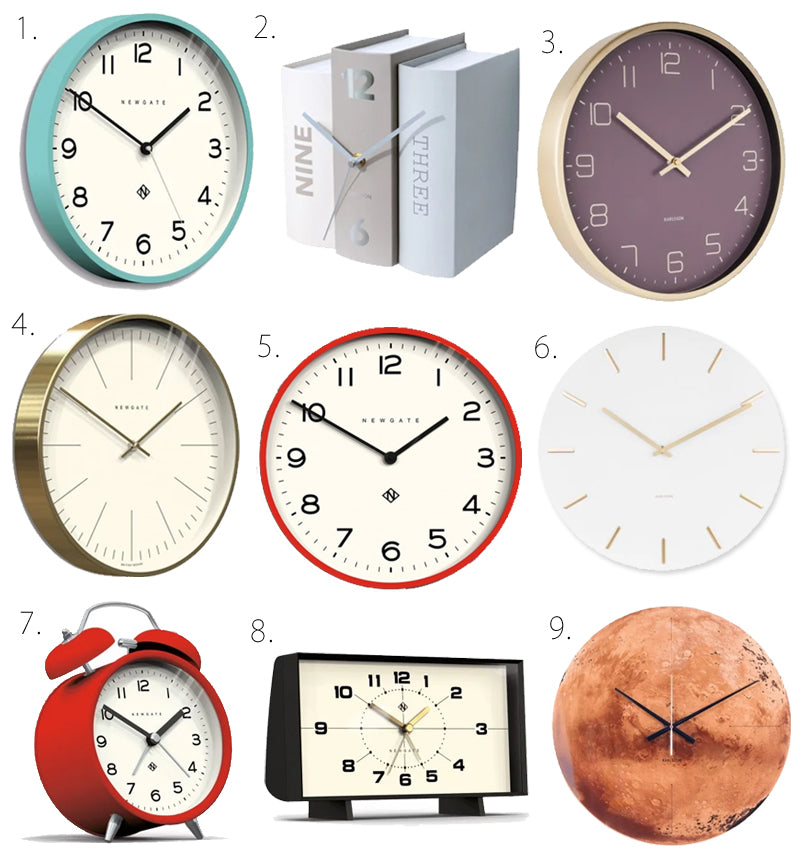 1. Newgate Number Three Echo Clock – Aquamarine, £45
2. Karlsson Table Clock Book – Grey, £36.50
3. Karlsson Elegance Wall Clock – Purple, £48.99
4. Newgate Oslo Wall Clock – Marker Dial, £50
5. Newgate Number One Echo Clock – Red, £85
6. Karlsson Charm Wall Clock – White, £53.99
7. Newgate Charlie Bell Echo Alarm Clock – Red, £22
8. Newgate Wideboy Alarm Clock, £40
9. Karlsson Mars Wall Clock, £94.50
**Best-selling and Spring-themed clocks**
Plus, for added inspriation we've put together a collage of our best-selling clocks, along with some Spring-themed tickers. Because nothing says "spring is here" like a clock bursting with butterflies, birds, or spring animals such as bunnies! Click here for our entire range of designer wall clocks!

1. Karlsson Wood Sunflower Clock, £89
2. Time2bee Wall Clock – Orange, £145
3. Koziol Pi:p Olive Wall Clock, £29.90
4. Adjustable Petals Wall Clock – Red, £225
5. Thomas Kent Mulberry Clock Rose Gold – 20 inch, £89
6. Time2bugs Wall Clock – Orange, £155
7. Karlsson Origami Wall Clock – Pink, £38
8. Butterfly Clock Red, £135
9. Plug Inn Wall Clock Multi Colour, £64