Thursday 8th December 2016
Christmas Gift Guides: Gifts for Foodies

1. Nessie Family Gift Set (Colander, Ladle and Tea Infuser), £34.95
2. Karoto Vegetable Peeler, £9.95
3. Splash Spoon Rest, £8
4. Joseph Joseph Adjustable Rolling Pin, £19
5. Happy Jackson Snack Boxes – Set of 4, £10.95
6. Joseph Joseph Nest 9 Plus – Opal, £35
7. Typhoon Vintage Kitchen Scales, £25
8. Joseph Joseph Gastronomy UK Map Worktop Saver, £15
9. Utility Condiment Picnic Table, £13.50
10. Cook Bookend, £18
11. M-Cups Measuring Cups – White, £10
12. Fixie Pizza Cutter – Watermelon, £14.50
It's December!! We've donned our Christmas jumpers, the advent calendars are open, and the halls are well and truly decked (i.e. our office is decorated with pretty sparkly things).
And with lots of us now turning our attention to the yummy treats the festive season brings with it, today's gift guide focuses on Foodies! Yes, keen cooks, aspiring Mary Berrys, and people who simply just love food!
So if you're on the hunt for a gift for a friend/family member who believes that the kitchen is the heart of the home, then feast your eyes on these amazing Christmas gifts for foodies! These funky kitchen accessories will aid them in creating delightful dishes that will see their family racing to the kitchen.
Check out the full Gifts for Keen Cooks and Bakers range here, and also keep an eye on our blog over the next couple of weeks for a new gift guide per day!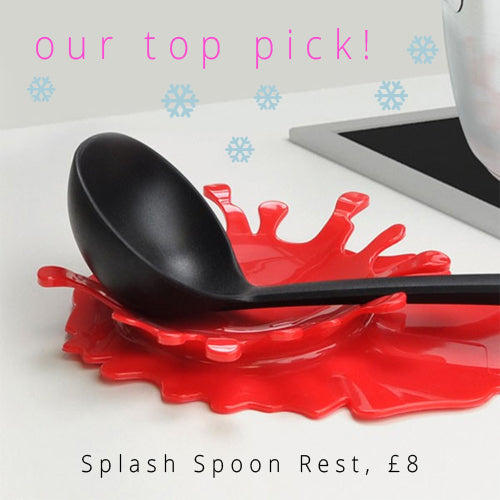 If you're buying for a keen cook who firmly believes that with every culinary masterpiece comes *a lot* of mess, then the Splash Spoon Rest will be right up their street! Shaped like a splatter of tomato sauce, this novelty ladle rest will protect their worktop from stains, and will also add a splash of colour to proceedings (quite literally!) Also check out the matching Splash Chopping Board and Splash Lid Holder for other quirky kitchen gifts!